We'd like to give a huge shout out to community members that have purchased items on our public Amazon supply and resource wishlist. Please check out the link in our most recent newsletter and on facebook to see what is needed. This list will be updated frequently, but specifically you will soon see items meant to increase the play options for students during recess.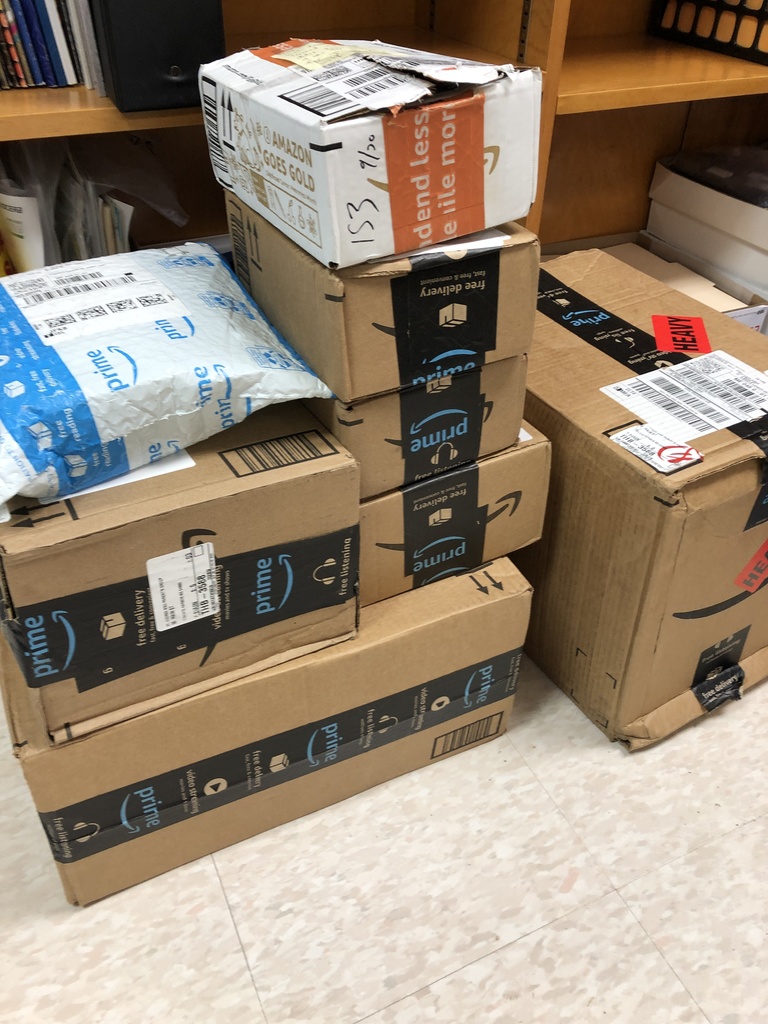 Dragon Newsletter:
http://bit.ly/STG-Newsletter
Please note a link to the updated school calendar is included. Two additional early release days have been added.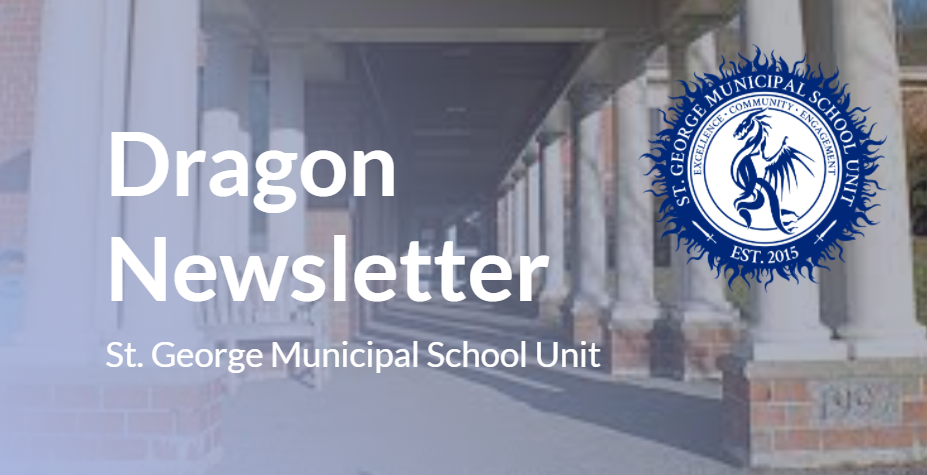 Due to road construction on Rte 73 from Sept 13 - 18, there will be some modifications in bus schedules. Students who ride Dolphin bus and live east of Dennison Rd on Rte 73 will be about 20 minutes late getting home in the afternoon.

St. George School will be releasing early at 12:30 tomorrow, Friday, September 10, 2021. There will be no soccer or cross country practice after school. Students who attend Blueberry Cove programming will receive an update directly from Blueberry Cove staff. Thank you, St. George MSU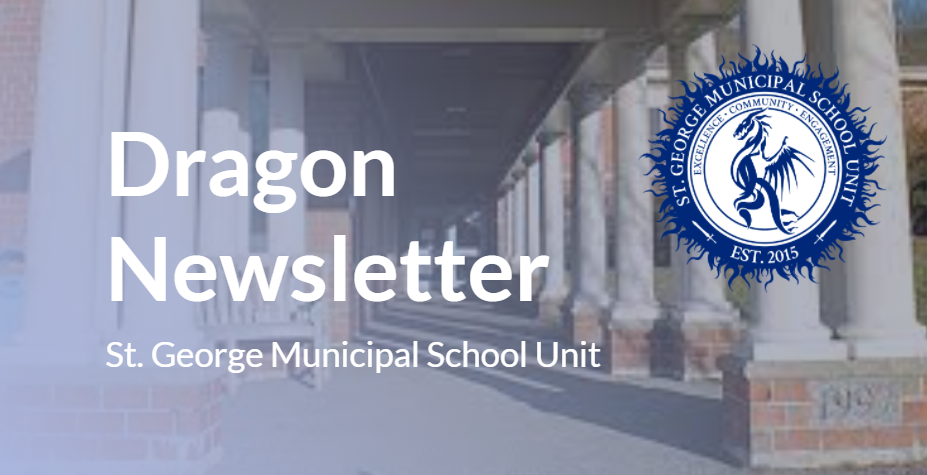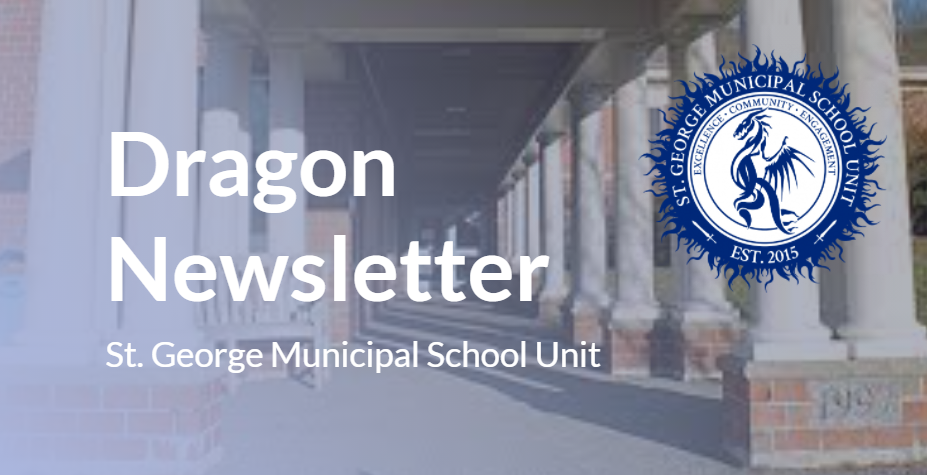 Blueberry Cove After-School Program 2021-2022 Our K-5 after-school program returns for another year in St. George! This wonderful program will have students immersed in fun outdoor science activities, arts and crafts, trips to the library and weekly adventures around the peninsula to hike and explore our own backyard. We meet everyday after-school until 5:30 pm for the duration of the academic year and can't wait for another fun season of adventures! Snacks will be provided daily.
https://extension.umaine.edu/tanglewood/st-george-after-school-program/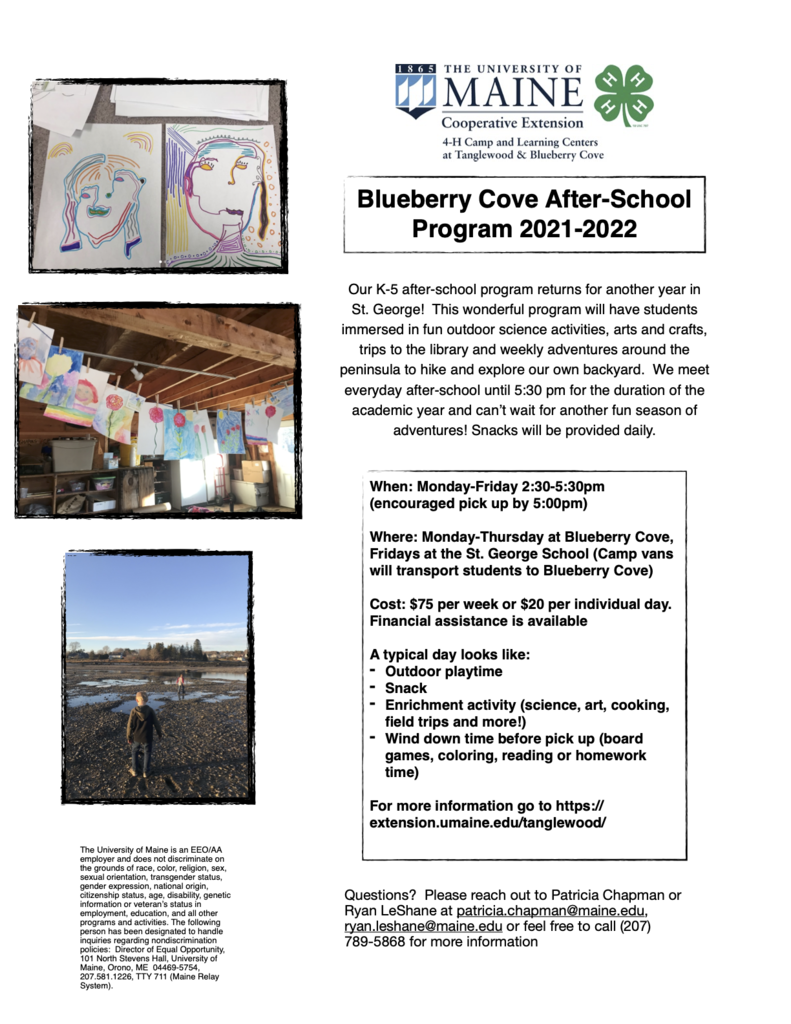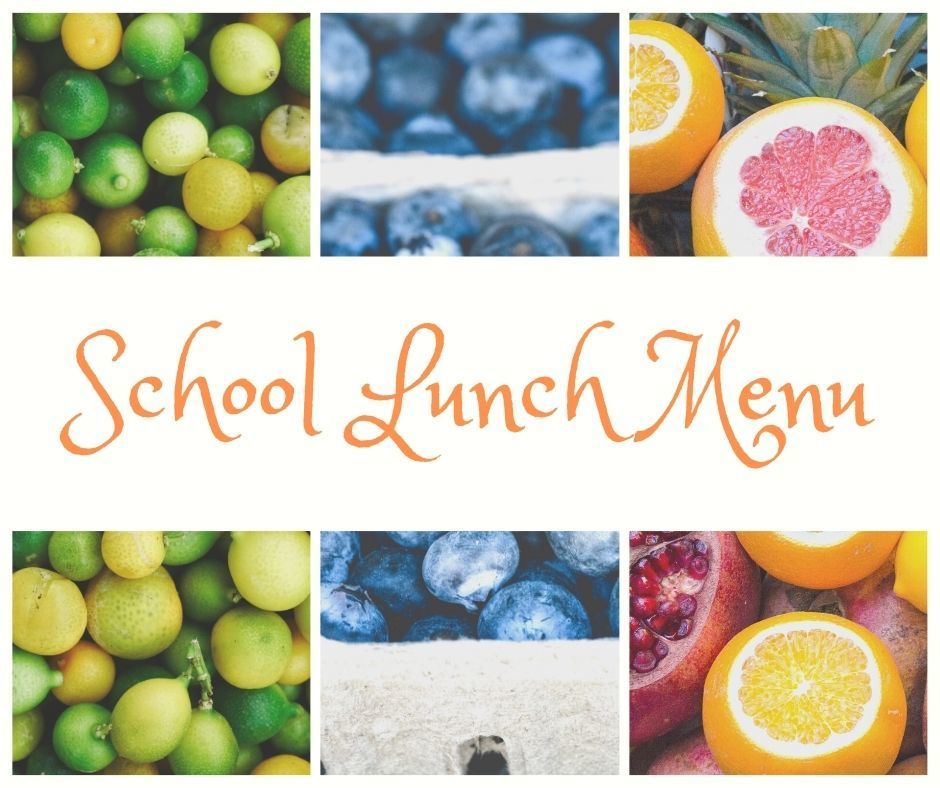 Hello St. George Dragons! Ashley Geel here to introduce myself as your new Athletic Director. I am very excited to get the fall sports season underway. I need your help in filling out this survey for any students who are interested in participating in a fall sport. I look forward to hearing from you and seeing you shortly! Here is the survey:
https://forms.gle/BBYmfnQDFzscJbfE7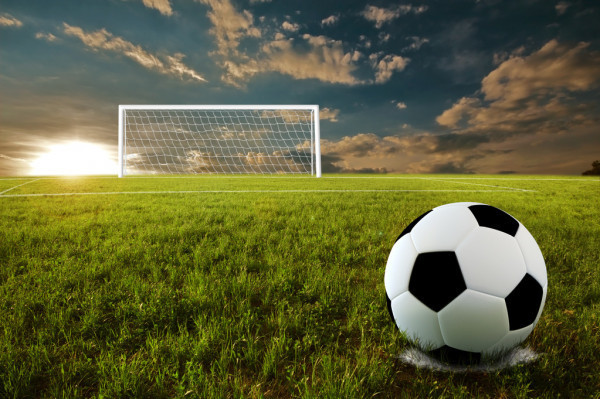 Thank you to St. George Community Development Corporation! It takes a village!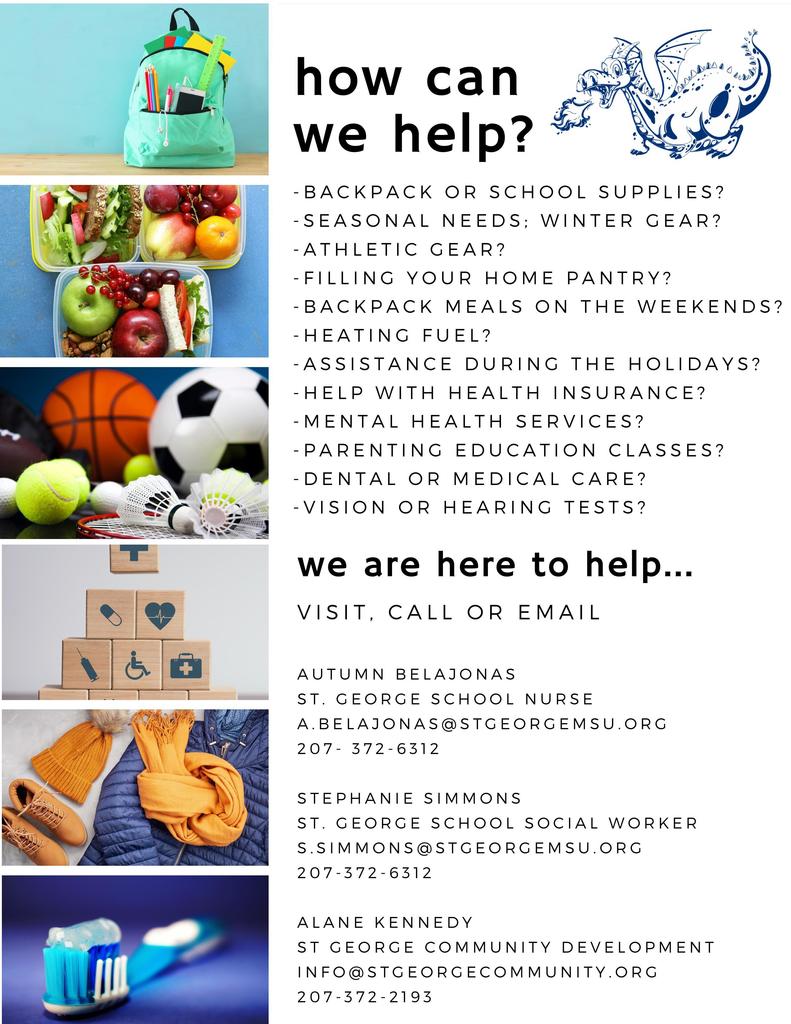 We still have spots available at the Apprenticeshop summer academy in Rockland. Check out the academy description below... Have you ever imagined going on daily adventures in a traditional sailboat, learning about sailing and seamanship and even how to build boats? It's happening this Summer at the Apprenticeshop, where you'll be the captain of a wooden boat and the master of the shop. Students are invited to participate in different activities that incorporate traditional boatbuilding and seamanship at the Apprenticeshop's waterfront. A rotating land based / boat based group will be formed having half of the students working in making boat parts for a underway project of a sailing sardine carrier, involved in using wood tools to create objects, and the other half working on seamanship by going out sailing on Rockland's harbor on one of the A'shops traditional vessels. During the course of the week, students will have specific tasks and will be taking rotating assignments in the shop or in the boat and will be engaged through games being introduced to the maritime vocabulary. At its core, the Apprenticeshop is about inspiring personal growth through craftsmanship, community, and traditions of the sea. Dates: Aug 02- Aug 19th (3 weeks; Monday through Thursday) Time: 12-3 (3 hours) Program: Youth traditional Sailing, Rowing, Seamanship and Boatbuilding Grades: Students going into grades 5-8th Contact Adam Bullard at 207-542-6260 for more information or to sign up.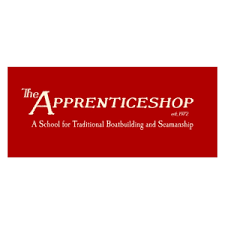 Math camp WEEK 2 (Aug. 2nd-5th) Updated Bus Run... We have added some middle level students to the bus run for next week so please check to see adjusted times. 7:05 836 River Rd. 7:06 Jiminy Cricket and River Rd. 7:08 71 Kinney Woods Rd. 7:09 0 Kinney Woods Rd. 7:10 150 Dennison 7:16 Old Island Rd. & Post Office Rd. 7:23 Clark Island Rd. & Mill Crk. 7:26 229 Clark Island Rd. 7:35 153 River Rd. 7:38 Morris Ln. & Wallston 7:41 47 Turkey Cove Rd. 7:46 163 Ridge Rd. 7:49 585 Port Clyde Rd. 7:52 162 Drift Inn Rd. 8:00 St. George School

These are our updated COVID safety measures that will remain in effect while students attend summer activities at school (ESY, Math Camp, Hurricane Island, Critter Camp) Health Screening: Students: Parents screen students each morning for symptoms using the same protocols/symptom checker we used during the school year Staff: Staff screen themselves for symptoms each morning but do NOT need to fill out and submit an online form Face Coverings When indoors, students and staff must wear face coverings (regardless of vaccination status) When outdoors, face coverings are not required for students and staff Students who want to wear face coverings outdoors have that option to do so. Extended Mask Breaks on Hot Days Staff have the option to provide students with extended indoor masks breaks on warm days as long as windows are open and students are 6 ft apart. Social Distancing When indoors and wearing masks, students are not required to socially distance. If students are not wearing masks indoors, then they must maintain 6 feet of distance from one another. When outdoors, social distancing is not required regardless of whether or not students are wearing face coverings. If a student or staff member participating in a summer program tests positive for COVID, we are required to follow the Maine CDC's Standard Operating Procedure for Positive Cases in Schools. Please contact Adam Bullard at
a.bullard@stgeorgemsu.org
or 207-372-6312 for more information.

Attention STG families: There are many spots still available at math camp for students going into 3rd-7th grades. Please contact Adam Bullard at 207-542-6260 or
a.bullard@stgeorgemsu.org
to reserve a spot for your son or daughter or to check on the status of a previous reservation. Math camp starts July 26th and runs until August 19th, Monday-Thursday from 8-12. Transportation will be available if needed. In addition, we still have a few spots available at the summer academies including: Apprenticeshop, Herring Gut, Hurricane Island, and Critter Camp. Happy Summer!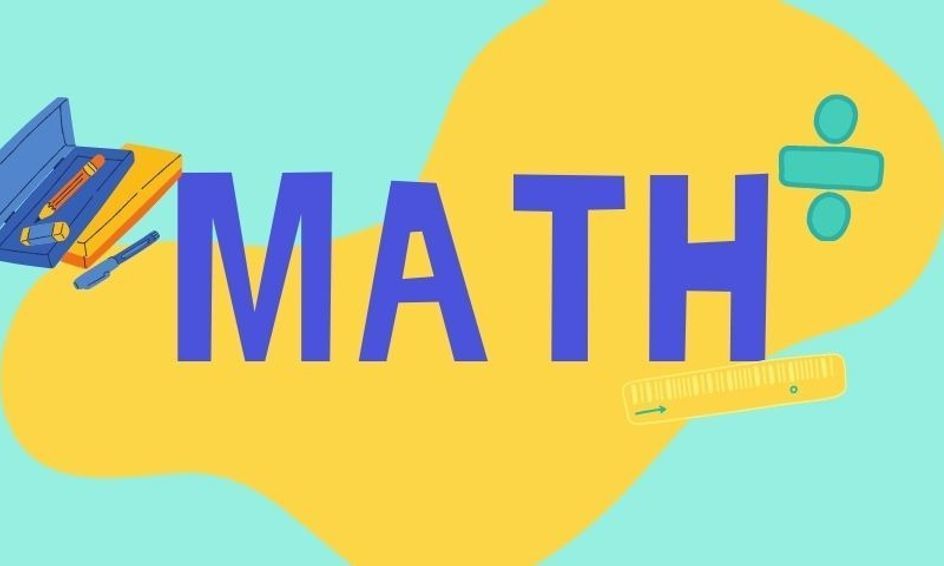 Attention St. George high school students: We are excited to announce that we are hiring two camp counselors this year to help with our annual summer Math Camp. The four-week camp runs Monday through Thursday from 8AM to Noon beginning July 26th. Please email Mr. Bullard at
a.bullard@stgeorgemsu.org
by July 12th for more information OR if you love math, like working with students, and are interested in setting up an interview.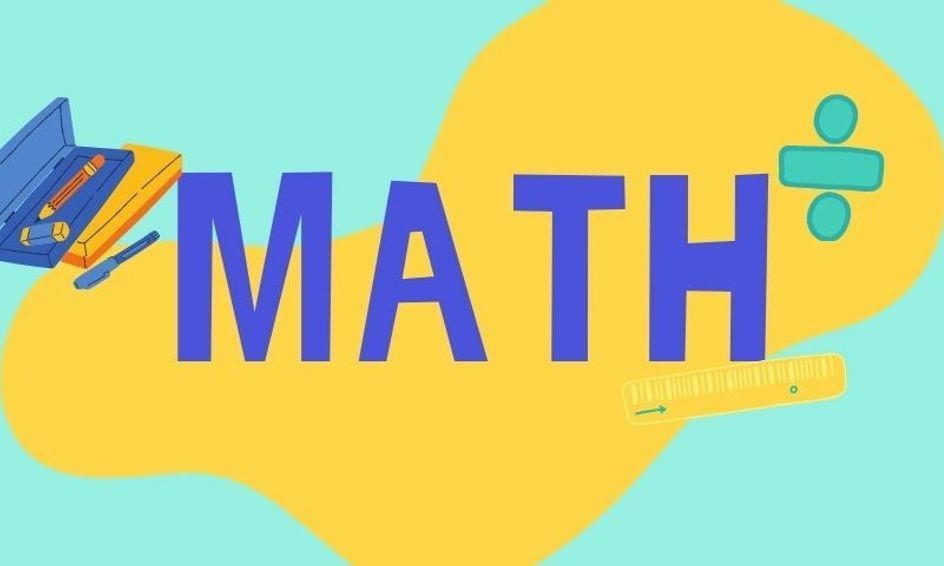 Summer Academy update: There are still spots available in all of the academies. Please contact Adam Bullard at the school to reserve a spot or for more information:
a.bullard@stgeorgemsu.org
; 372-6312.