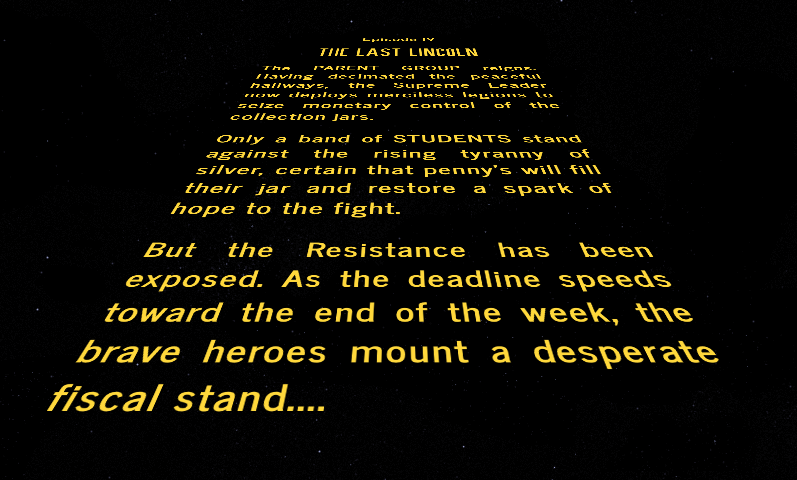 The PARENT GROUP reigns. Having decimated the peaceful hallways, the Supreme Leader now deploys merciless legions to seize monetary control of the collection jars.
Only a band of STUDENTS stand against the rising tyranny of silver, certain that penny's will fill their jar and restore a spark of hope to the fight.
But the Resistance has been exposed. As the deadline speeds toward the end of the week, the brave heroes mount a desperate fiscal stand....
ONE, TWO, THREE, FOUR…WE CHALLENGE YOU TO A PENNY WAR!
The St. George Parent Group is sponsoring a Penny War, to raise funds that will benefit all
St. George School students. This event will begin on Monday, October 22nd and
will end on Friday, October 26th at 9:00AM.
Each grade level will have its own collection jar. Students, staff and parents are invited to deposit pennies in the jar of their choice. The grade level having the most pennies in its jar at the end of the week will win a prize! Here's the sneaky catch….any silver coins or paper money that is deposited in a jar results in asubtraction from that jar.
One penny = 1 point added to the jar
One nickel = 5 points subtracted from the jar
One quarter = 25 points subtracted from the jar
One dollar = 100 points subtracted from the jar
Get it?
This results in a higher overall amount of money raised, which will benefit all students, while encouraging some fun competitive strategizing among students and staff.
Collection jars will be available before 8:00AM each day and will be located in the hall by the main office. Parent volunteers will supervise them. Please be clear with your students about how much money you will allow them to contribute to this fundraiser.