June 2021
Dear St. George Families,
With the end of the school year, we wanted to take this opportunity to reach out to you about keeping kids safe this summer - specifically around tech use. While phones, computers, gaming platforms, and tablets are a staple in many kids' lives and can be an effective way for kids to connect with peers and fill in during downtime, devices and technology also expose our youth to risks and dangers that they may not be ready to handle or even aware of. Here are some statistics from a 2018 study conducted by Bark, an internet safety solution company.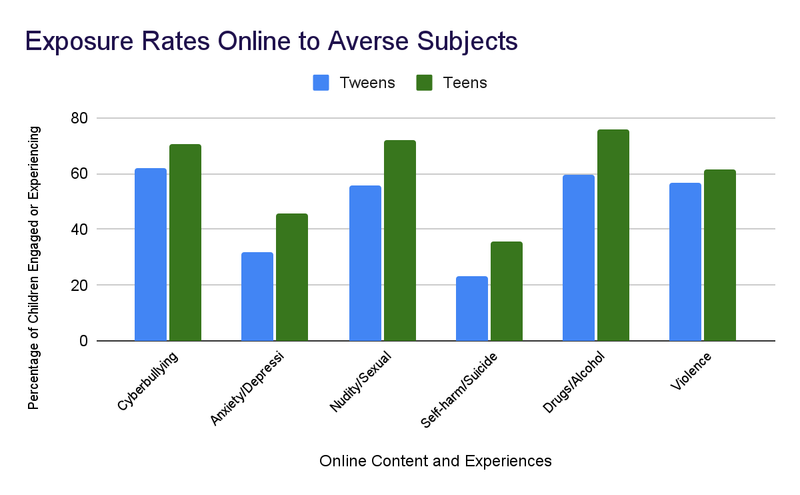 In addition, we want to share this short documentary from Bark on the risks of internet predators and social media. This is part of a larger documentary entitled Childhood 2.0. Please know, this documentary is intense and explicit and is meant for an older audience. However, we feel that it is imperative that parents know the risks that are present with social media and technology use. This is not something that is just happening in large, urban communities. It is affecting children in Maine and here in St. George.
Many of our devices offer screen time monitoring apps, but it is important to understand the limitations of certain apps. Common Sense Media offers a Guide to Parental Controls which may be a good starting point for many families. One resource that we want to make families aware of is Bark, Jr. This is a free entry level service which monitors screen time, filters websites, and performs location check-ins. An invitation to Bark, Jr. will be sent to St. George parents and guardians. At the subscription level, Bark uses an algorithm to alert parents to potential threats or danger such as:
Cyberbullying
Sexting
Internet Predators
Depression
Suicidal Thoughts
One of the reasons that kids and parents like Bark is that you don't have to read all of your children's texts and emails. Here is a link to an article that supports the use of Bark. Below, please find additional information and resources.
We are so proud of all the accomplishments of our St. George students this year. It has been an amazing journey and students have persevered through many changes and challenges. Summer is a well-deserved break and we hope that everyone has a joyful, restful, and safe summer.
Stay Dragon Strong!
Sincerely,
Amy Hufnagel, LCSW, School-wide Behavior Interventionist
Stephanie Simmons, School Social Worker
Additional Resources/Apps for Screen TIme Management & Internet Safety