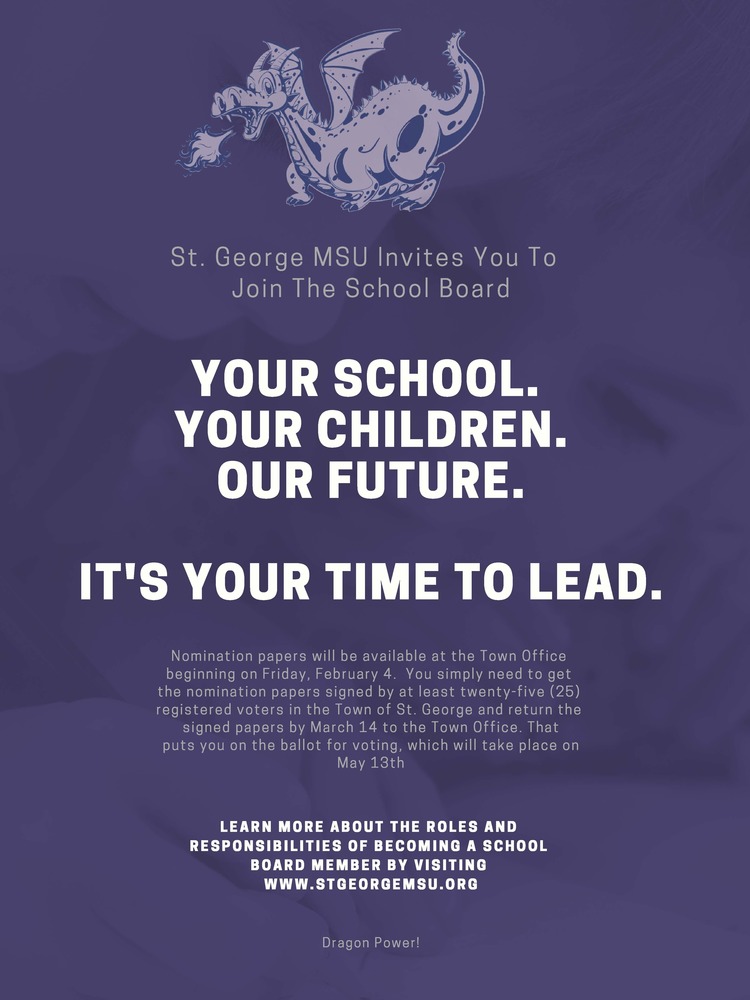 Join the St. George MSU School Board!
Mike Felton
Wednesday, February 27, 2019
Two current St. George MSU School Board members will be stepping down from the Board when their terms expire this June, which means we will have two open School Board seats on the May 2019 election ballot. All the reasons that you may have for not running for the School Board don't measure up to the reasons why you should: this is your school, these are your children, this is our community's future, and this is your time to lead. Much has been accomplished since we became an independent, community school; much has yet to be done. If we are to build on our successes, we need community members to be involved in setting policy and making decisions.
A school that is strong, innovative, and responsive to the community can be the heart of the town as a source of pride and cohesion. School Board members share qualities that allow them to learn, have an open mind, and the ability to listen to staff, fellow Board members and the community. Guided by the school policy manual available on the school's website (https://www.stgeorgemsu.org/board-policies--75) the School Board works cooperatively with the superintendent and employees at St. George MSU.
As we look to the future of our community school, the Board will work on assessing, maintaining, and improving the building and grounds in addition to supporting our amazing staff in meeting students' needs in the areas of academic growth, character development, and health/wellness (e.g., mental and physical health, social-emotional well-being, and food security).
Nomination papers will be available at the Town Office beginning on Friday, February 4th. You simply need to get the nomination papers signed by at least twenty-five (25) registered voters in the Town of St. George and return the signed papers by March 14th to the Town Office. That puts you on the ballot for voting, which will take place on May 13th. It couldn't be simpler.
To get a sense of the scope of our work and the dynamics of the School Board you may want to read the minutes from some of our school board meetings, which can be found on the St. George MSU website (https://www.stgeorgemsu.org/board-meetings--15). Also, on the site is a policy manual which the Board is responsible for reviewing and updating (https://www.stgeorgemsu.org/board-policies--75). Finally, we encourage you to reach out to any of the current School Board members or attend a school board meeting.
Terry Driscoll t.driscoll@stgeorgemsu.org
Jennifer Garrett j.garrett@stgeorgemsu.org
Sherm Hoyt s.hoyt@stgeorgemsu.org
Alane Kennedy a.kennedy@stgeorgemsu.org
Shasta Minery s.minery@stgeorgemsu.org